by Michael Miller on July 8, 2015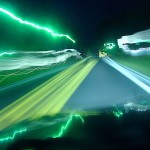 You're paying for it, and by golly, you want it! You want that internet speed. But mostly, you probably want to know why it's so slow right now that you're about ready to go mental.
Well, as you no doubt know, you could be using speediest.net to find out just how fast your connection to the world is. Time was, this worked quite well – but that time was long, long ago. Now speediest.net is covered in ads for what is basically malware (yep, I'm looking at you MacKeeper) and to add insult to injury, it's entirely flash dependent. There have been times I've thought that the actual speedtest is just getting the site to load, never mind using it.
But you all know this. What, you ask, is the alternative?
testmy.net is entirely html5 based, which does mean you'll need a more modern browser to actually use it. That being said, not only is it blazing fast, it won't also flood your computer with pop-ups in the process. It claims the results are more accurate – I don't know if that's true, but it's certainly no less accurate, and fabulously more pleasant to use.