by Michael Miller on September 22, 2015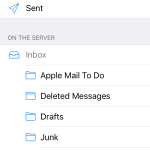 Most email accounts today use an IMAP email server. The advantage to this is whatever happens on one device–say, a laptop–gets reflected on another–say, an iPhone. If you read a message on your Mac, it will show up on your iPhone as having been read. If you send a message from an iPhone, it will show up in the sent folder on the Mac as well.
Except! Sometimes this doesn't happen. You send an email on the iPhone, it sends successfully, but the email never shows in sent mailbox on the Mac.
The reason for this is some accounts configure with a different default setting for sent messages–they are configured to store sent emails locally, instead of on the IMAP server. Fortunately, it's an easy fix.
Unlock your iPad or iPhone and tap on 'Settings'
Scroll down to 'Mail, Contacts, and Calendars' and tap on that. You should be presented with a list of accounts.
Find and tap on the email account in question.
It should say 'IMAP' in small gray letters in the upper left, and it will have a field that says 'Account' listing your email address. Tap on that. This will take you to the account settings.
 Scroll all the way down to the bottom and tap on 'Advanced'. All sorts of magic happens here!
Under the heading 'Mailbox Behaviors' tap on 'Sent Mailbox'.
The very first heading will say 'On iMy iPhone'. Make sure that's not checked anywhere! You want to scroll down to the section that says 'on the server'.
Tap on 'Sent' under the 'On the server' section.
Back out by tapping the upper left button to go to the previous screen.
You're done! From here on out, you should be able to send an email on that iOS device, and it will properly show up on other devices. One note: It's also possible to set a different default 'sent' folder on the Mac should that be necessary.