by Michael Miller on September 25, 2015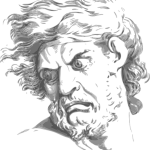 So. In a burst of organizational genius the other day, we changed the default share name on a client server. Lets say the old version was 'Public', and the new version was 'Shared'. What could possibly go wrong, right? Cue the hollow laugh machine.
All went fairly well, until Open Office decided that every time you opened the save dialogue box, freaked out with an error message saying it was having an error connecting to the share 'Public'. I say 'freaked out' because after dismissing it, the error appeared again not once, not twice, but four hundred five thousand times. I definitely counted.
I spent a considerable amount of time resetting permissions, clearing recent item lists, restarting, and even resorted for a short while to having a dummy 'public' share available on the network; just to get the message to go away while I pondered this issue, you understand. Internet research yielded the following hopeful results, which basically said 'haha. Enjoy your newfound pain.'
Turns out, if you have any aliases on your desktop to the old share and/or old server? Error message. I discovered this when I started rooting about on the folders in the dialogue box that caused the issue – opening certain files caused the same 'Problem connecting to server' dialogue box. Evidently, Open Office attempts to follow through on aliases when it opens a save dialogue.
Either remove the aliases, links, or delete them entirely, and poof, the problem went away.